Greek wedding ceremonies are definitely worth the sweat. If you're planning your special day in Greece, you've made an excellent choice. The culture and vibes of Greece are pretty fascinating. Every year, it hosts some exceptional contemporary and orthodox weddings. The destination is home to some mesmerizing traditions that make just any Greek wedding ceremony truly memorable.
If you're here to know more about the customs, check out some timeless Greek wedding traditions we love.
But Before That, Why Do Wedding Traditions Matter?
Most wedding traditions protect and validate the union between the couples and their families. Traditions give the entire gathering the chance to participate in familiar festivities or explore something entirely different. Every custom makes your ceremonies genuinely unforgettable. That is what Greek wedding traditions are about – something new, something old, something borrowed, and something blue.
A Magical Love Story
This was when Greece met the Netherlands. Our Dutch bride Manon and Greek groom Kosta exchanged their vows at the oh-so-stunning  Crete. They had a typical and intimate Greek orthodox wedding at the Western Coast of Crete overlooking the Aegean Sea. Their celebrations implemented all the Greek wedding traditions to rejoice in their love and their future together.
Living in Germany and bringing guests from all around the world made this destination wedding exceptionally unique.
Manon and Kosta chose to personalize their ceremony traditions to the core. Personalizing your big day and making it uniquely yours calls to decide the rituals you'd want to include, remake, or skip. Choosing something that genuinely speaks of your style must be the essence of it all.
Manon and Kosta made sure they went ahead with Greek wedding customs that have an international style and vibe. Working withwedding planner Margreet relieved the task further and concluded the wedding, seeing off everyone with a truck full of memories.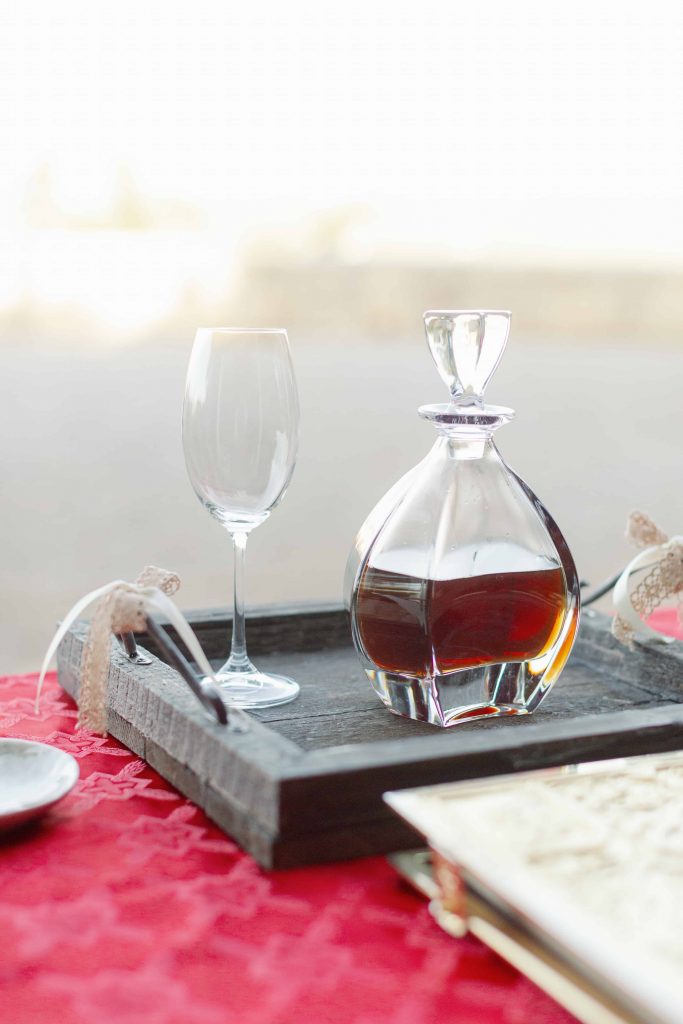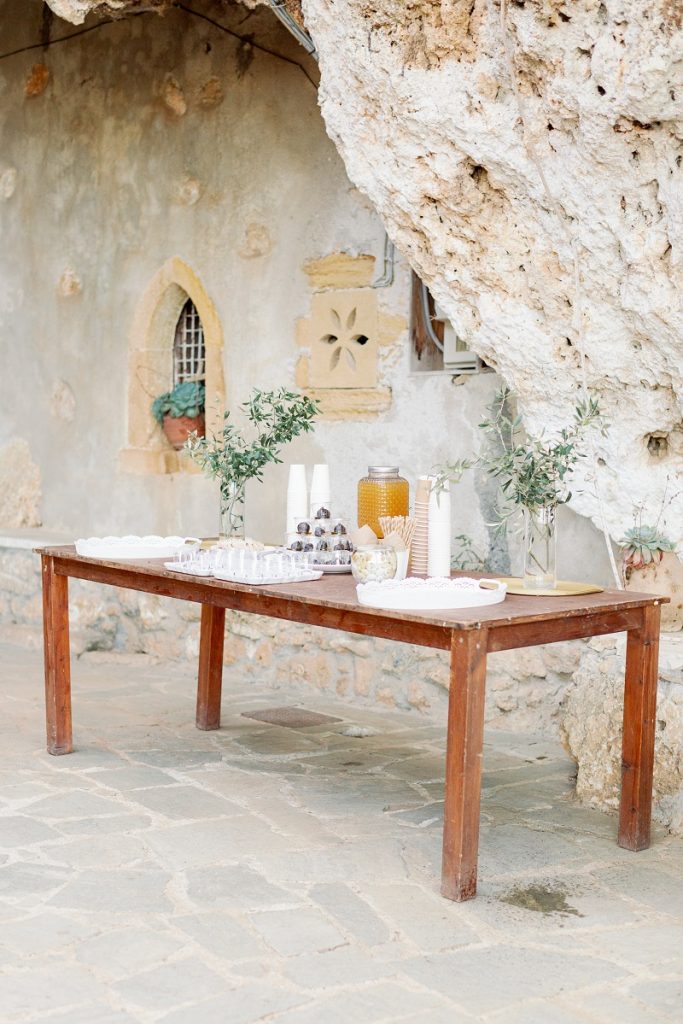 Contemporary Hellenic Traditions
There are several ways to incorporate Greek traditions on your big day. Some of these are still relevant to modern couples.
Exchanging rings before the wedding as the wedding promise is a common tradition. Making the bed is another fun custom to welcome the couple to their new home. White-colored (or even silver, pink, and gold) Greek koufeta, a wedding favor filled with sugary almonds, is also offered by single girls to guests, symbolizing the sweetness and endurance of the couple's life ahead.
Stepping foot, money dance, throwing the bridal bouquet, walking down the aisle with flowers, groom retrieving the bride's garter, loud and enthusiastic singing and dancing, wedding band, breaking bread over the bride's head, and mother-in-law treating the bride with honey and walnuts are some fascinating ceremony traditions from around Greece.
Not to forget the koumbaros and koumbara, i.e., the best man and bridesmaid who will have your back. For the décor, you can have candles, hallway embellishments, flower arrangements and decorative items.
None of these traditions are meant to overwhelm you, but add a traditional touch to the merriments. Traditions exist, so things are happy and merry, not hard and wary.
At all Greek weddings, after the priest reads additional Bible passages, the bride and groom take three sips of wine from a shared cup. The ritual of the common cup is based on the wedding of Cana of Galilee, where Jesus turned water into wine. The cup  represents life and symbolizes the couple's mutual sharing of joy and sorrow. Also the groom and bride are each given a taper candle called Lambades. The candles are lit to symbolize the willingness of the couple to receive Christ, who will bless them throughout this sacrament.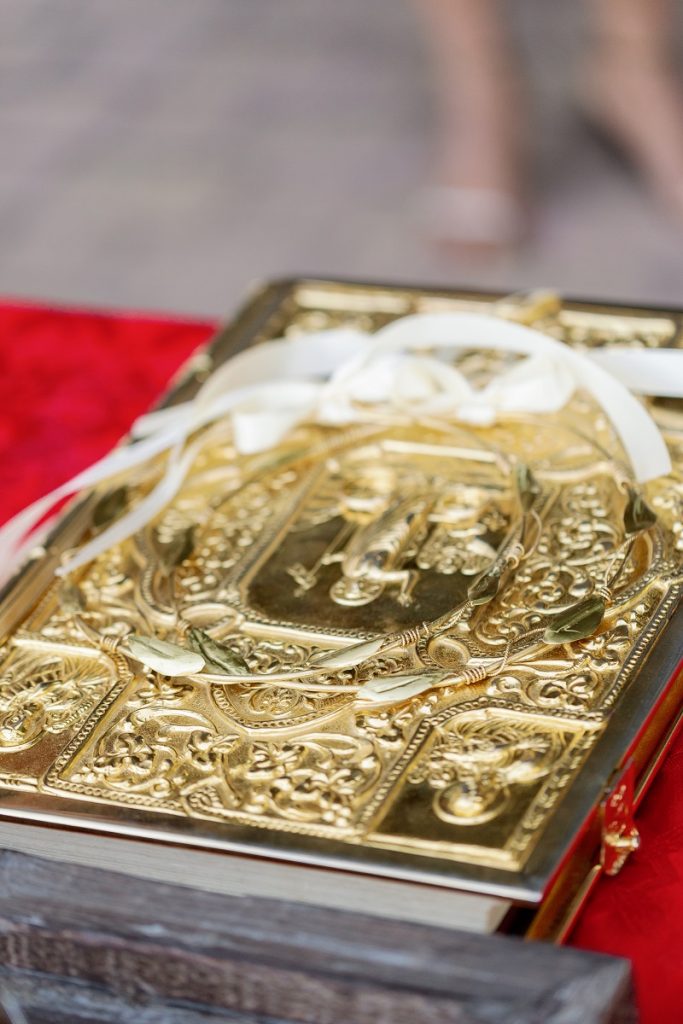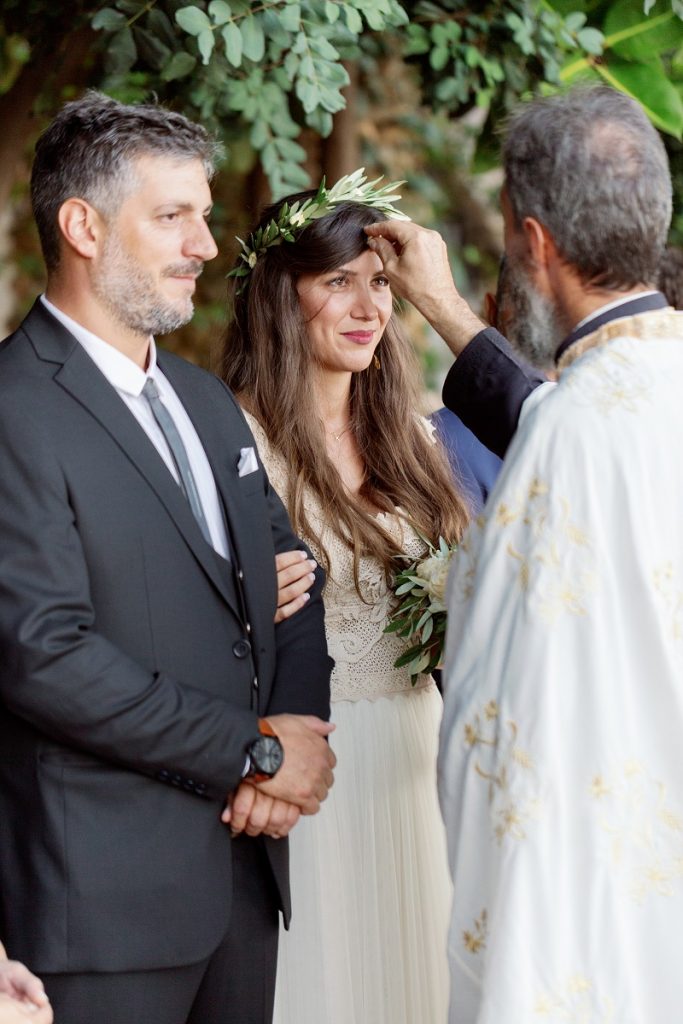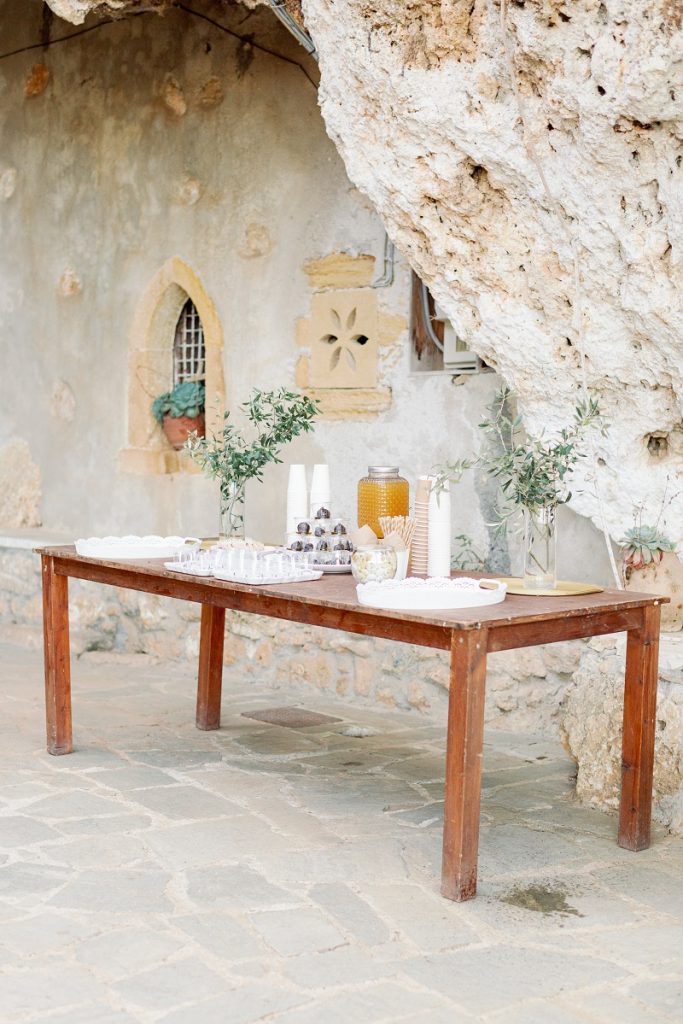 Incorporate a Cultural Element into Your Destination Wedding with Gamos Crete Weddings & Events
These Greek wedding traditions are some of the richest, most dreamy, and sentimental customs. You can also choose from many other cultures and add a distinctive element to your destination wedding. Most wedding planners suggest incorporating a cultural component to pay homage to the country you are getting married in. If it seems like a highly-traditional setting, work with your planner to adjust the traditions as per your style.
In the end, it is about choosing the customs that matter to you the most, and you can tweak those too. However, each detail will add something special to your memory box that you will treasure for life.
Also, do not underestimate the capabilities of a wedding planner when preparing for a Greek wedding. Gamos Crete Weddings & Events has helped many clients arrange their dream destination wedding, and we are thrilled to help you too. Let's connect and see what a difference we can make to help you plan yourbig day in Crete.