We created an exceptional concept with autumnal inspiration for our styled wedding in Crete.
We wanted to harmonize with the romance and magic of this picturesque historic estate, so we went with a special late summer fête theme and featured all things ethereal, earthly, and exquisite.
The estate's worn and frayed walls were timeless and effortlessly captivating – and they made for a whimsical statement backdrop for the day's alfresco events as well. We couldn't have found a more beautiful and charming backdrop than this venue steeped in history to fit our styled wedding.
A historic 14th-century estate on the dream isle of Crete was the utterly romantic setting for this late summer wedding inspiration.
This shoot encompasses the autumn aesthetic with a dreamy array of florals, cakes, and macramé.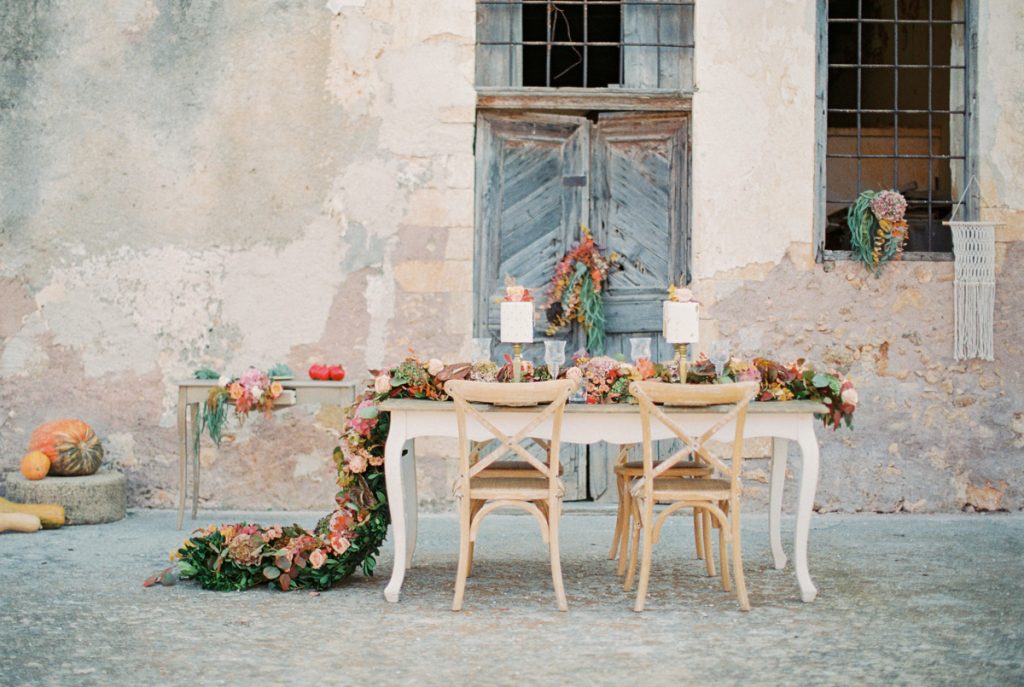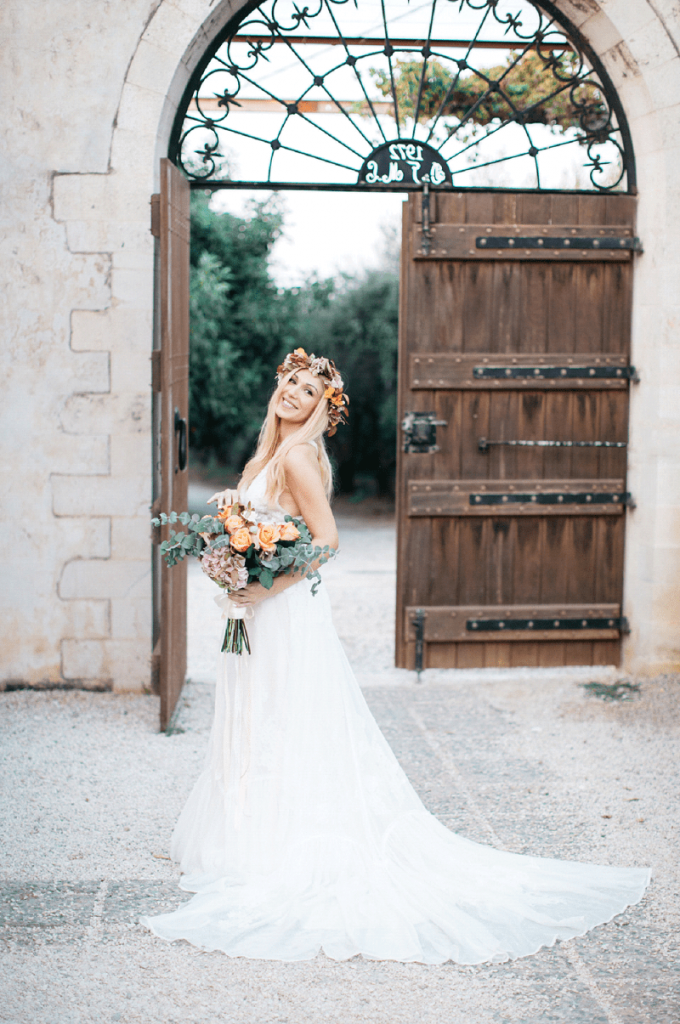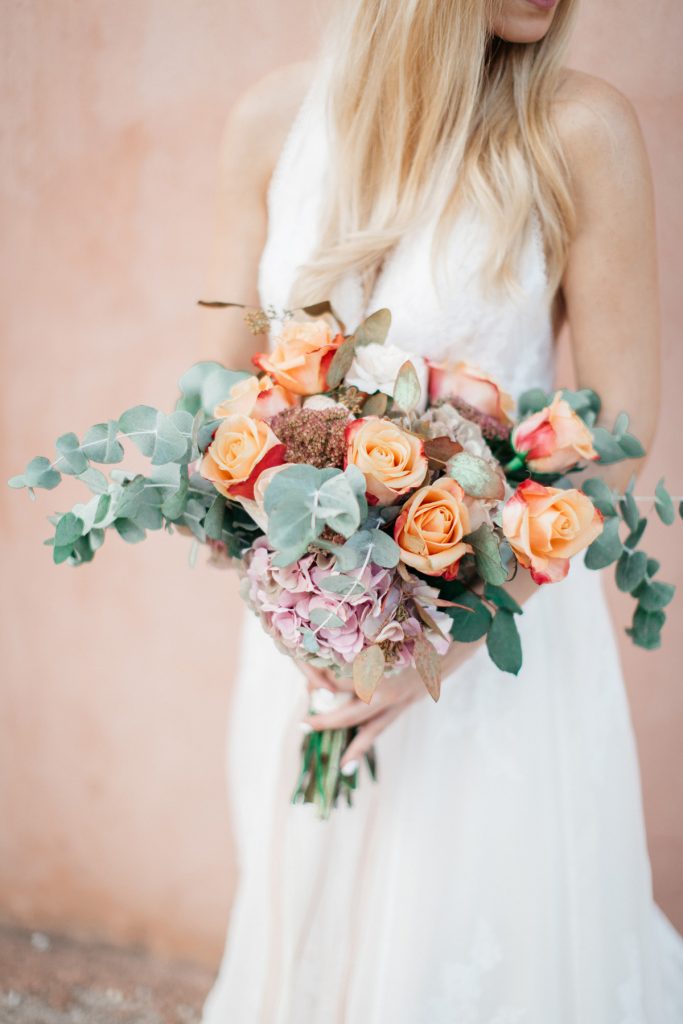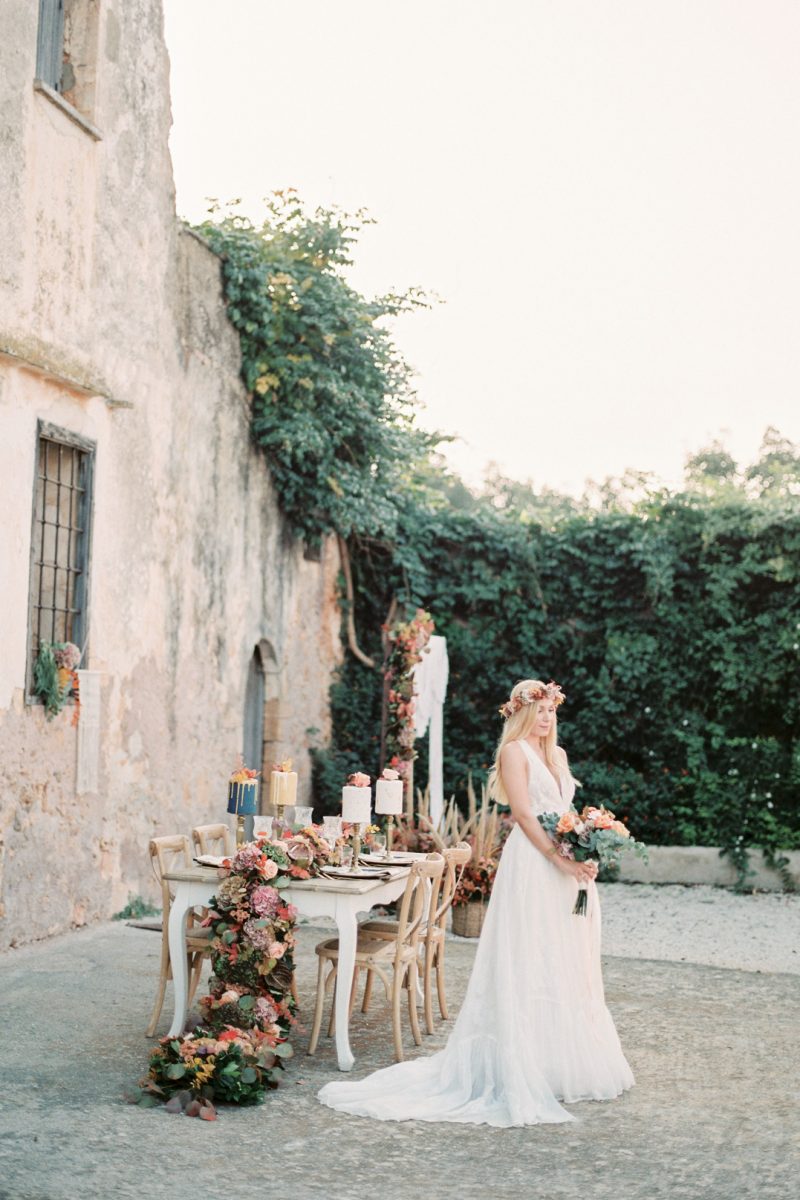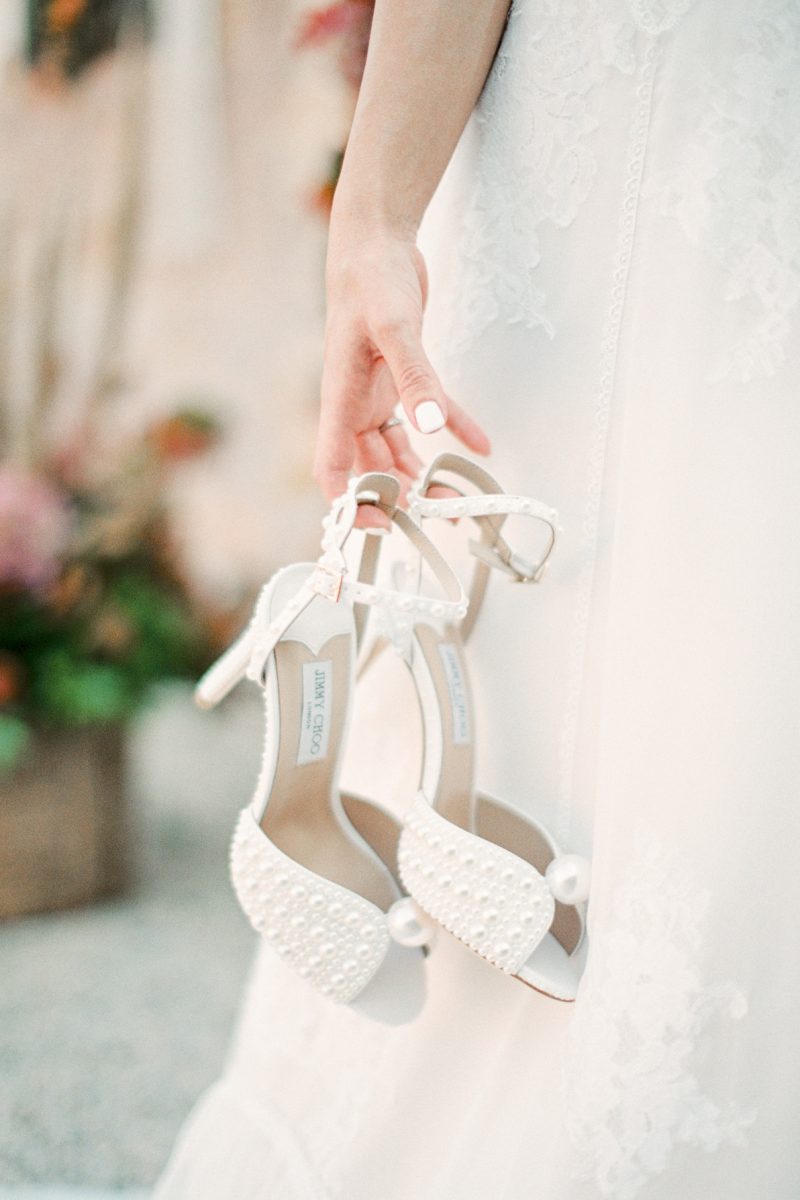 To make the most of the idyllic setting, we adorned it with details that would make any bride's heart swoon. We draped the door, the window, and the dining table with whimsical autumnal-hued blooms and cascading foliage. We wanted the floral arrangements to use a special combination of seasonal blooms so that it felt like walking through a lush garden in fall – and that's why we handpicked the embellishing pampas grass, fresh eucalyptus, dainty hydrangeas, classic roses, exotic orchids, chic anthurium, and pretty astilbe. As you might expect, this radiant floral arrangement set the scene for some pretty impressive ceremony photos. The light wooden charming chairs radiated a perfectly vintage but still chic look like they have always been there.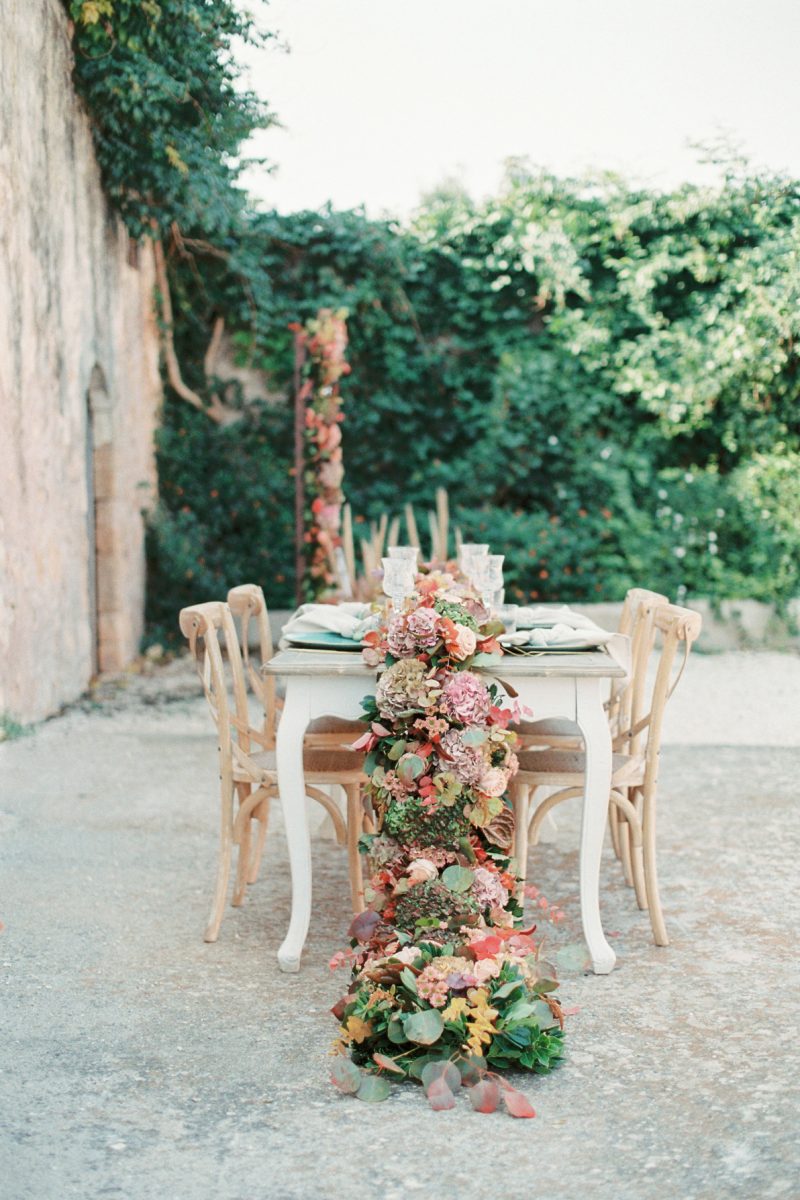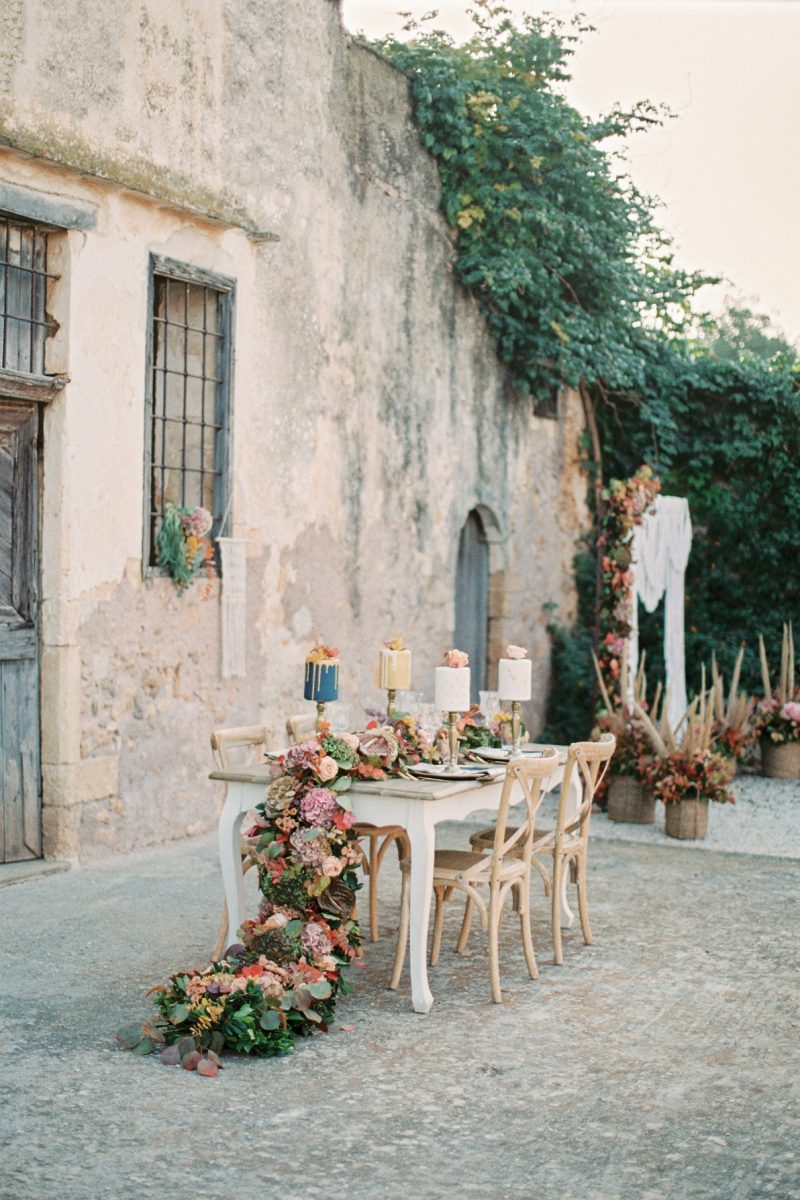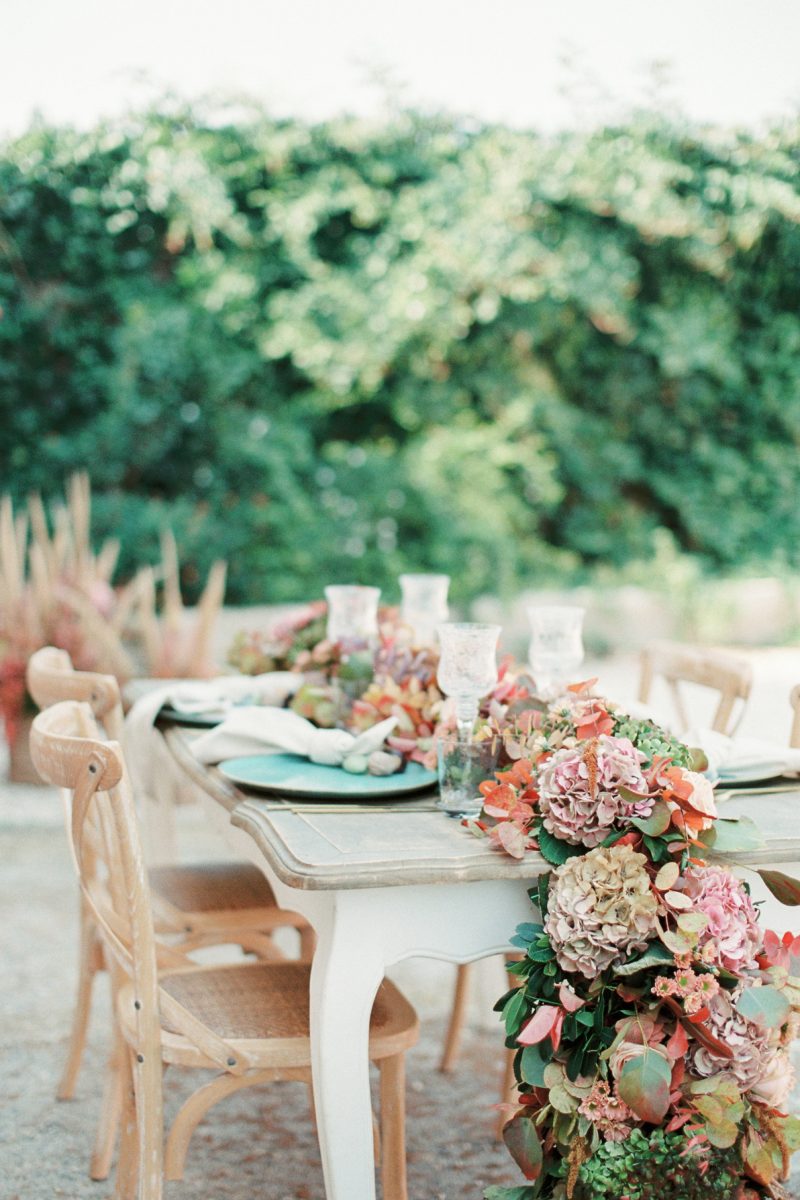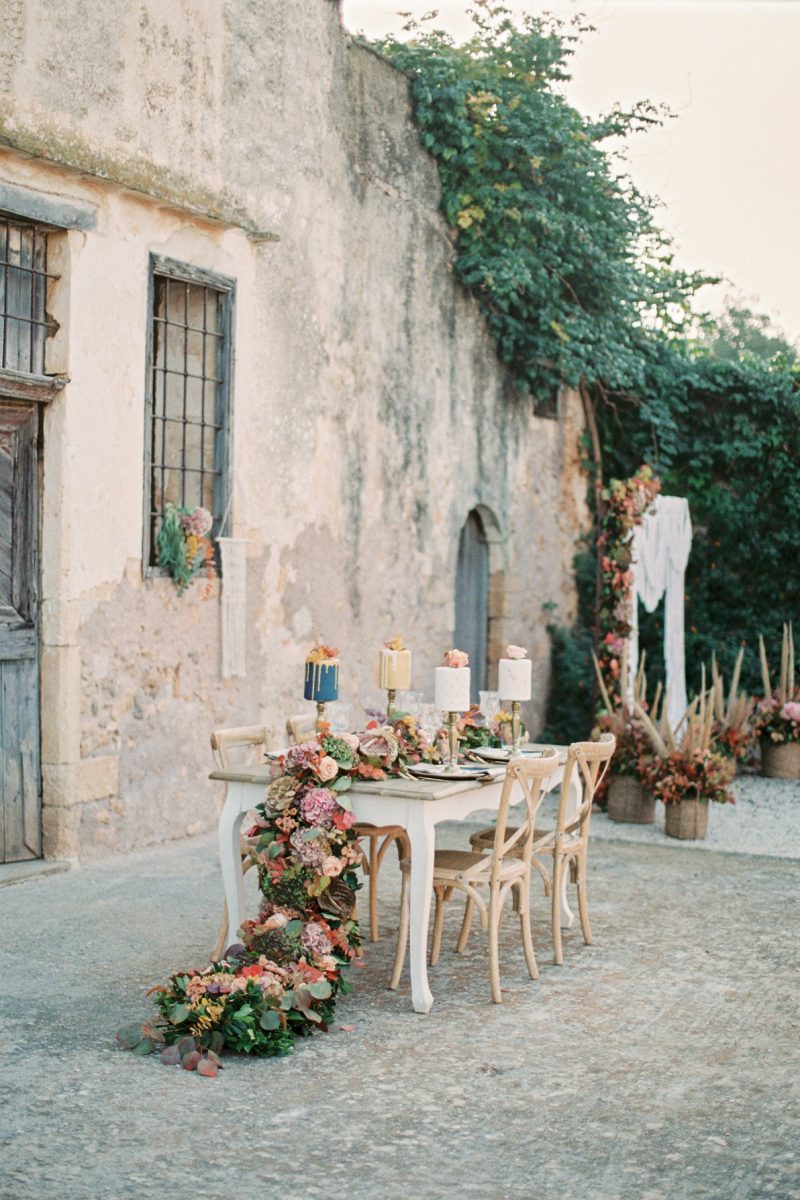 Creating that autumn feel
What better way to deck out a 14th-century venue than by using Macramé – an art form of Arabic weavers that dates back to the 13th century. We embellished the façade of the estate with these pretty crochet details to bring the extra 'wow' factor to the ceremony décor.
Finally, to accentuate the seasonal theme and lend the venue a relaxed, warm, and welcoming look, we turned to the ever-popular fall décor ingredient – pumpkin. Paired with The stunning little wooden table with a lovely floral arrangement, pomegranates and a small wedding cake on top, it really played up the autumnal aesthetic without overshadowing the set-up.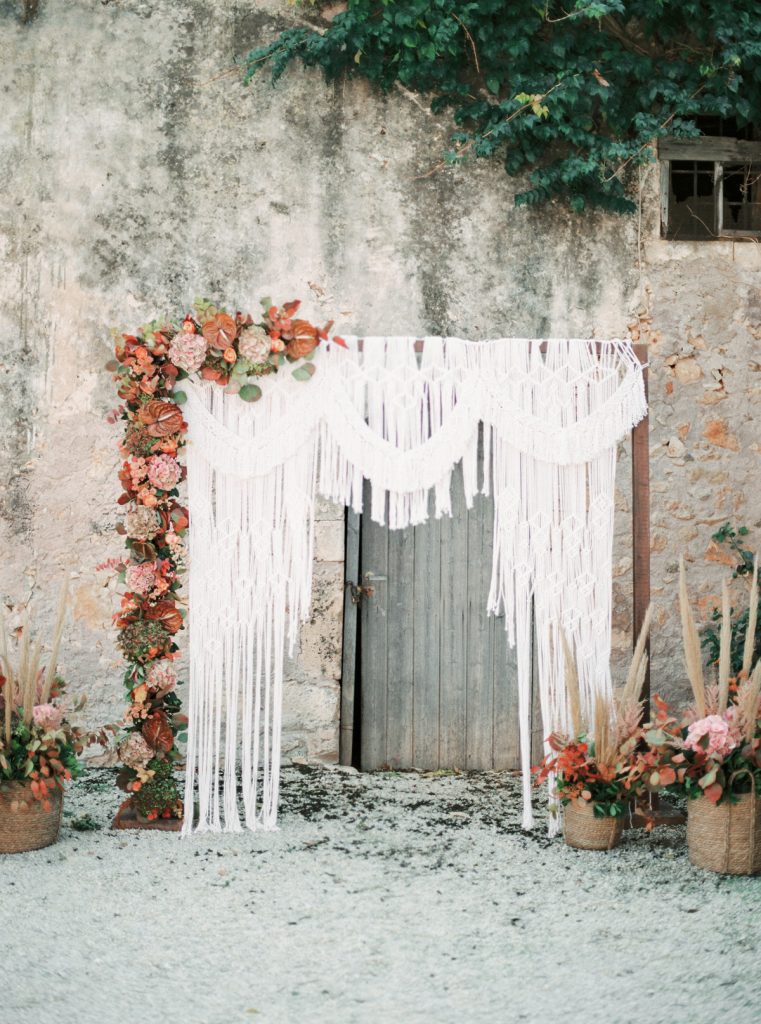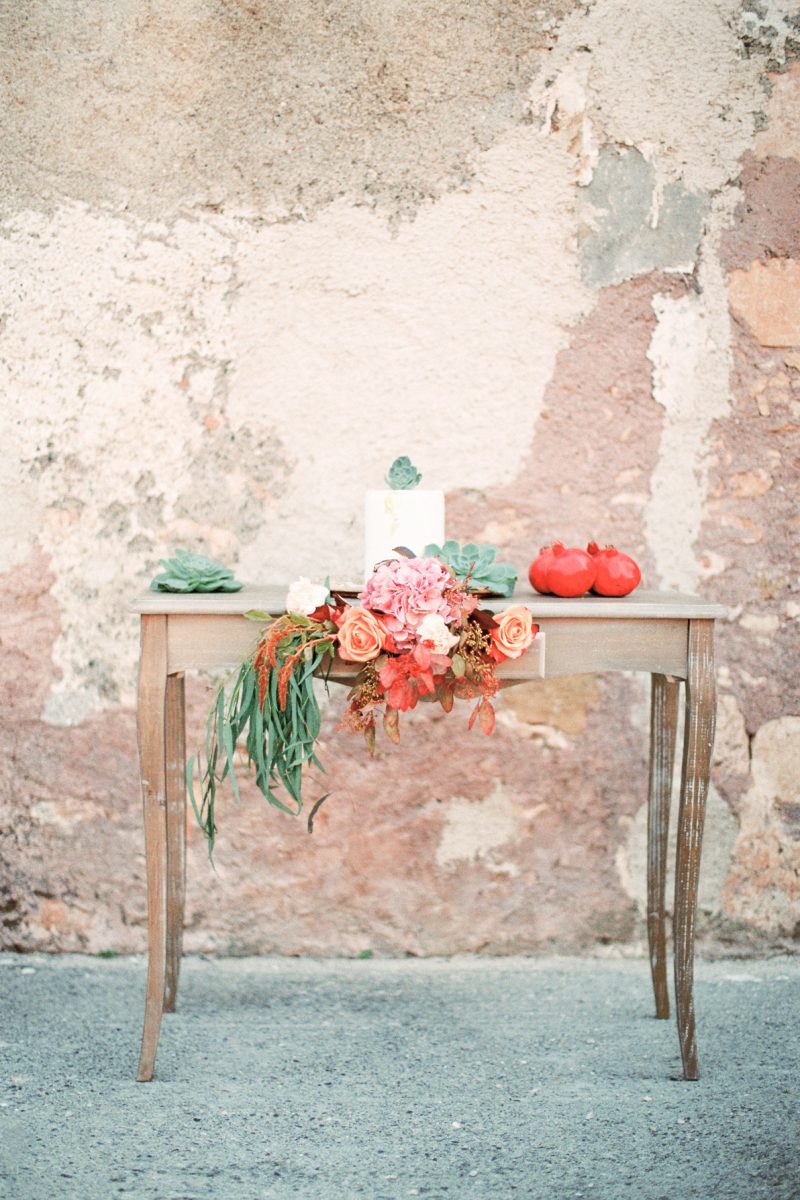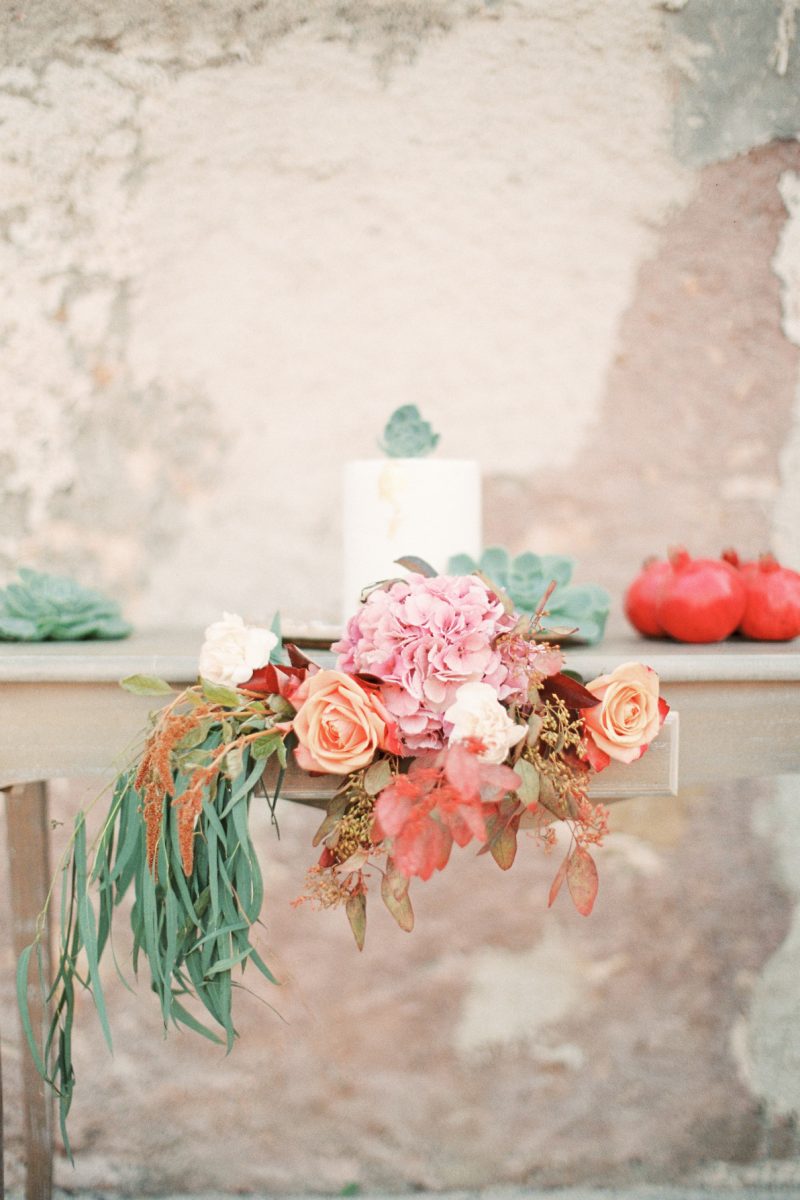 Statement table design
When the time came for the tablescape, we made sure it made a statement. Decorated with gold vintage tableware, delightful floral napkins, long high impressive glasses, and lovely floral display, the colorful autumnal table setting really did stand out. We used a ceramic chestnut, almond and walnut at each plate to go with the late summer style to be used as a wedding favor.
The scene at the table was topped off with four different cakes (buttercream, dripping cake, vintage and classy chic) on golden candle holders with the finest art design matching the florals.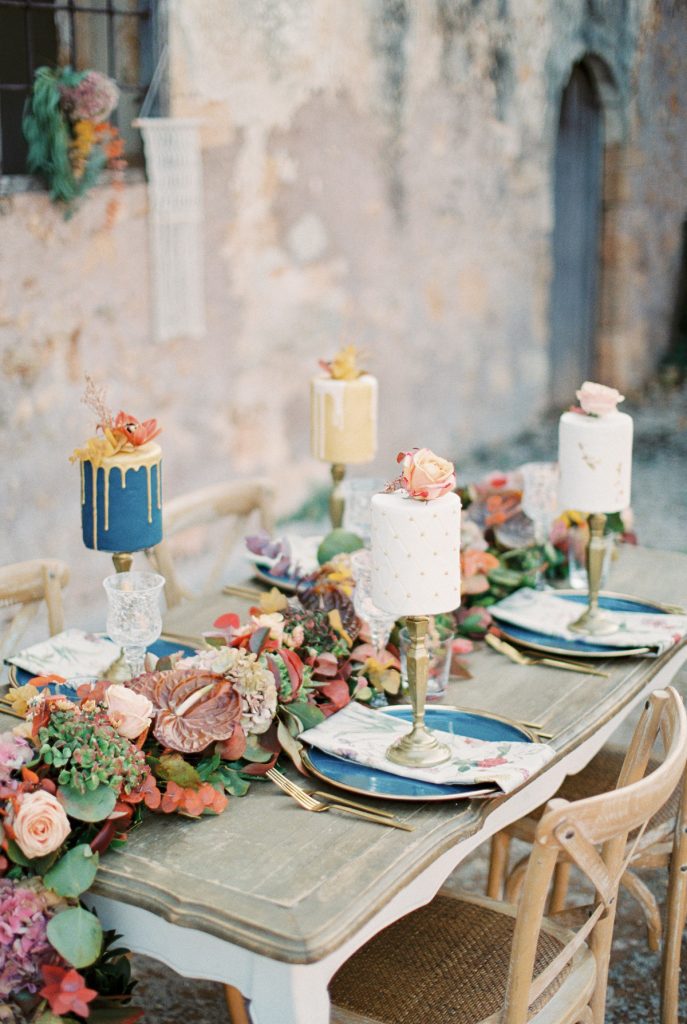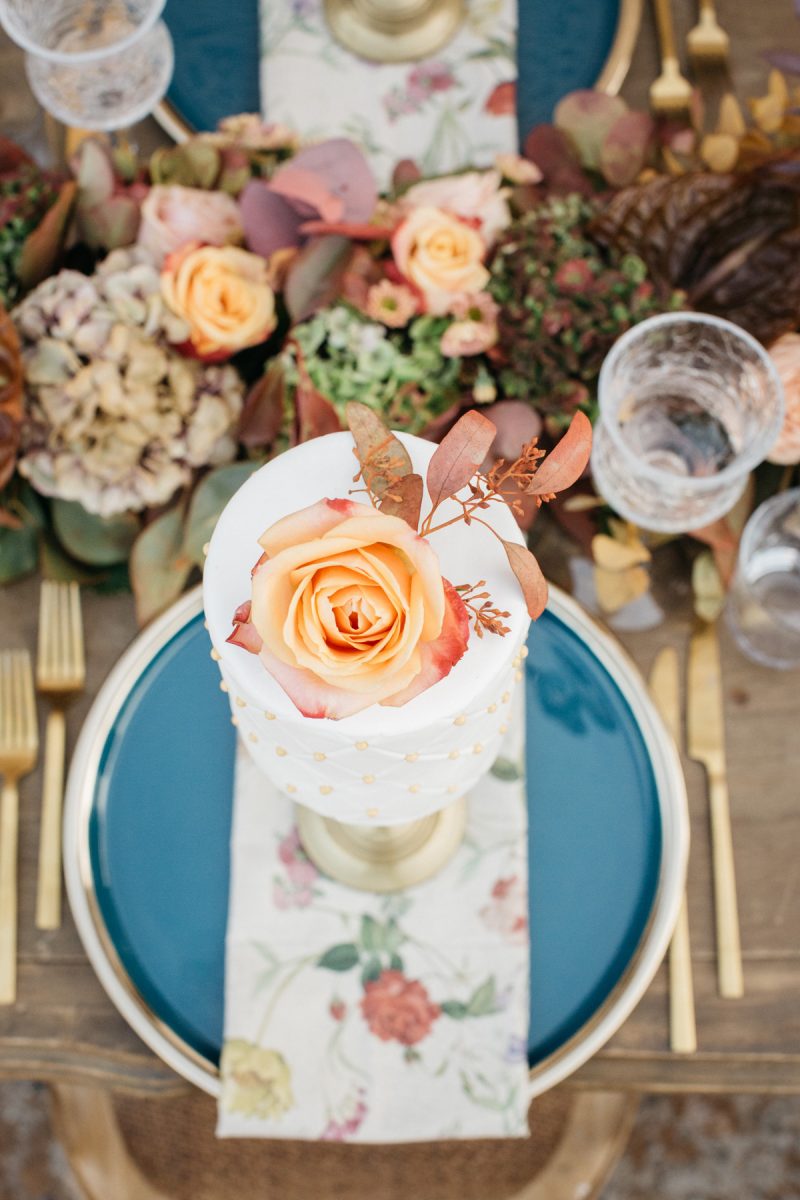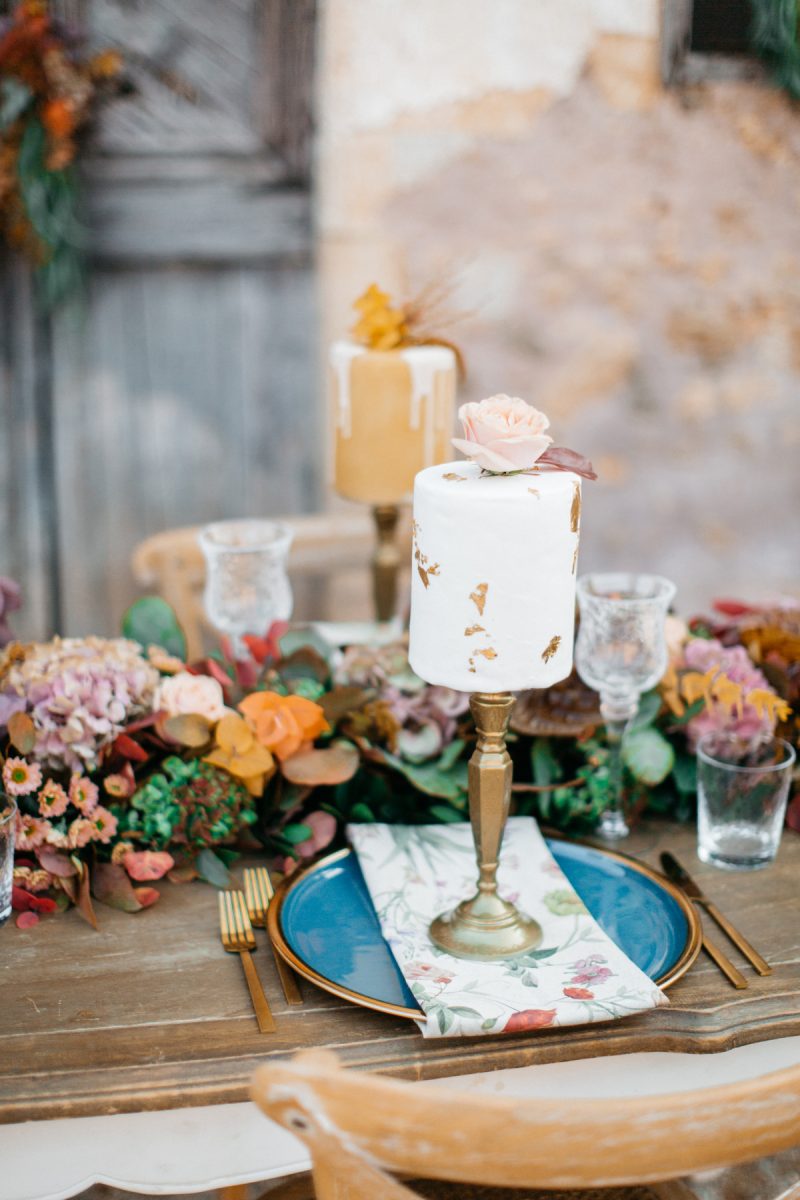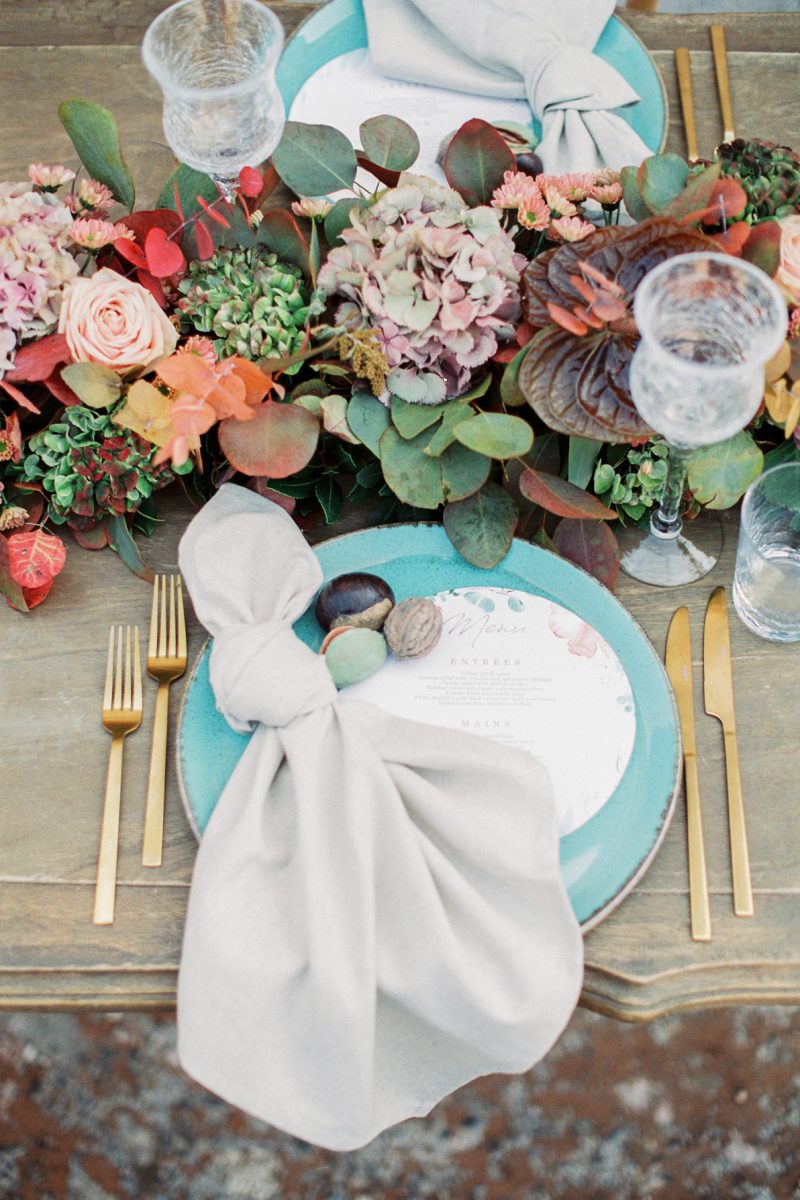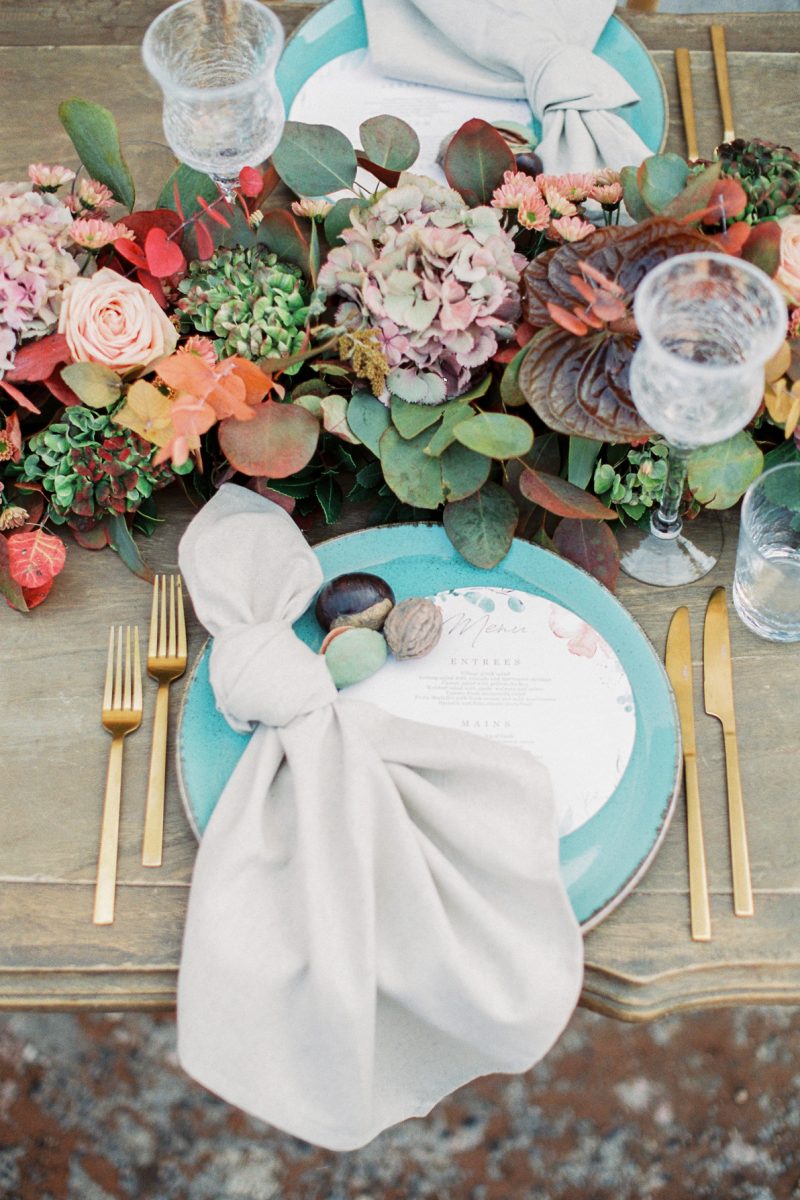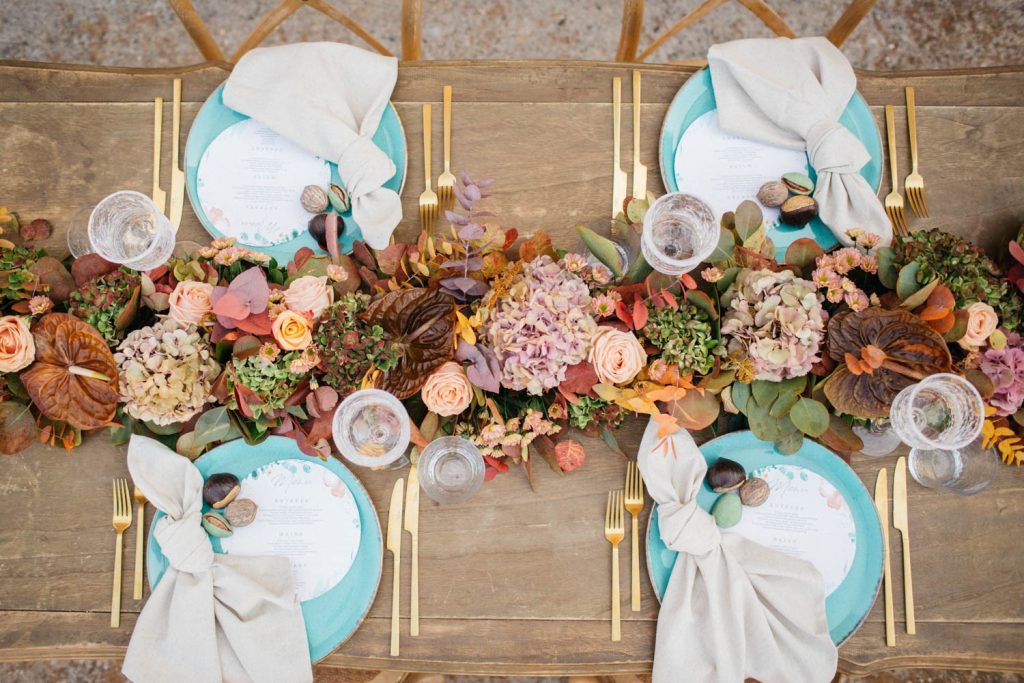 Cake + paper
A few things are appreciated more than a decadent wedding cake that looks great and tastes heavenly. That's what we had in mind when we chose this subtly statement-making four-tier wedding cake created by our best patisserie in Crete. This cake was not just mouthwatering – it was artistic.
We let the décor inspire this pièce de résistance – Gilded accents for a hint of glam and a dash of boho chic, and the raised peonies to bring out organic beauty. Playing with different designs can make a classic confection even more elegant – and that's evident with this dazzling, dreamy cake.
In keeping with the late summer fete theme, we designed a chic set of wedding stationery which included menu cards, save the date, invitations, and name tags. This simple yet elegant stationery with floral detailing and paired with pretty florals, surely made for an ethereal aesthetic.
"This styled shoot was all about channeling graceful and elegant style. That's why we chose this breath taking boho wedding dress with a sleek silhouette that feels fashionable yet sophisticated. The panache of the gown—paired with soft, loose curls and a lovely floral headpiece – made the bride as effortless as she can be!"
This spectacular styled shoot was made possible because of our team of wedding planners and vendors. With a dose of love and elegance, we created an excellent result that impresses at first glance!